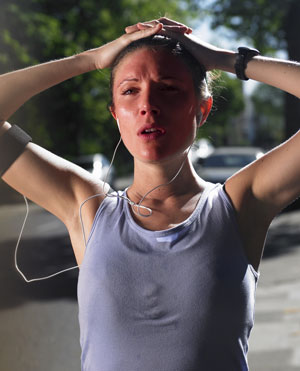 (My face is always more red than this after running)
*For explanation of why your face gets so red go here.
When my husband suggested it, I didn't know why in the heck I would actually agree to run a half marathon. I have NEVER liked running. I played soccer growing up and I loved soccer accept I hated the running drills and the switch backs. I dreaded them every time. I guess there was just this bit inside of me that wanted to dream of being able to run a half marathon... at least once just to say I did.
Well, friends, you have to be able to run 1...2...3...4...and even 5 MILES first!!! I don't remember ever running more than 3 and usually 2 at most in all my growing up years- I must have done it at least once during soccer but really I don't remember it.
Today....TODAY... just now I RAN 5 MILES! Count them. 1. 2. 3. 4. and 5 miles!!!!
If you are laughing you are probably one of those that runs 5 every day... that's cool... laugh... BUT I GET IT NOW!!! At least some of it...
Everyone says "It's not the destination but the journey that matters..."
but I dare say the destination is just as important!
I would not have reached a 5 mile run without a plan and preparation leading to this destination. My husband is ever encouraging but was quite surprised when I told him I ran 5 miles... (and they were 11 1/2 minute miles... not to brag or anything). He took me to
Runner's World
and helped me set up a custom training calendar for my very out of shape body.
I have been able to adjust if needed but overall know where I need to be each week with my running. It has been amazing. The funny part is I THOUGHT I was supposed to run 5 miles two Saturdays ago- but I haven't ran for about 1 1/2 weeks because of a family vacation so I was trying to pick up where I left off. After I ran 5 miles today... I looked at the calendar... oh... that's not until next week. Yeah, I ROCK!!!
Anyway, getting back on track... I did not really enjoy the journey (although music helped me keep my mind more focused) but I believed the destination was worth it.
Now I KNOW IT! MAN IT FEELS GOOD!!!
(yes, I may be a bit cheesy at times...)


I RAN 5 MILES! 11.5 minute miles!
What do you do to enjoy your runs?
What do you enjoy most about running?
What tunes pump you up and help you bust out the miles?
Tweet
Pin It