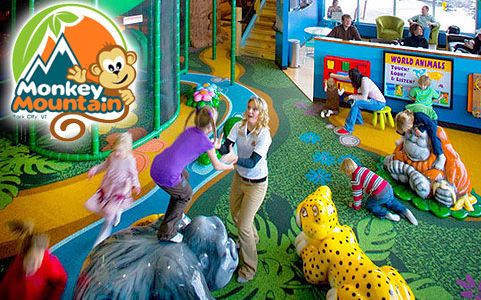 Do you know how many times I have told my husband
I wish there was something like this!?!
Well, lets just pretend we can count it on both hands. I even suggested that we could start our own but I wouldn't work there, I would just get people hired to do the job, lol!
There are so many times I just need a break... right now! Finding a babysitter last second really isn't fun and I sure don't want day care all.the.time. so I absolutely LOVE that someone started up the business!
At a normal price of $10 an hour, you can save 50% by buying it from
KSL Deals
. Only WISH they were located in St. George. I'd be using them right now ;)


Here are more Details
Monkey Mountain is proud to be a Utah state licensed hourly child care facility.

You can drop your children off in our facility and know they're moving & playing about in a state certified child care center, so they're safe and supervised as well as enjoying a really fun place to play! That's one reason we like to say that Monkey Mountain is "Safe, Supervised and Silly!" Or enjoy our "Drop In" program - when you can join the fun with your children and come in for unlimited playtime. We even have a beautiful Parent's Lounge with great views of the mountains, free Wi-Fi and flat screen TV's so you can enjoy some time of your own while your children have fun in the Playland!

Whether you drop your children off for hourly childcare, or come & play together, your children will discover their inner monkeys as they move & play about in the safety & comfort of our giant supervised Playland – with 4,000 sq. feet of interactive Play Features, a Toddler Soft-Play Zone and our massive 4-Tier Tree House Play Structure.
Offer includes:
Single child drop-in play admission to Monkey Mountain for 50% off
Admission is for children 3yrs. and older
Park City's ultimate indoor playground
Restrictions
Don't forget socks! Required for both adults and children
Admission price is for children 3yrs. and older
Not valid with other offers or promotions
No cash value
One voucher per child
Purchased voucher is valid starting October 1, 2012
Purchased voucher expires on December 31, 2012
Fulfillment
Present your voucher at Monkey Mountain to redeem.

Questions, please contact (435)-214-7451 or info@MonkeyMountain.com

Hours of operation:
Sunday – Monday 8:30 am – 4:30 pm
Tuesday – Saturday 8:30 am – 6:30 pm
---------------------------------------------------------------------------------------------------
Tweet
Pin It