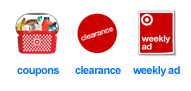 As you all are probably aware, coupon shopping continues to change from day to day.
It is official that Target has now updated their policy. Target used to super easy with coupons but it looks like you'll have to be more prepared when you go!
1) The manager can basically say no to ANY coupon they want. This will make it more important to make sure you have a good cashier... I know, profiling your cashier seems weird and judgmental a bit but it does make a difference- go for the younger males... if there aren't any, try young females.
2) Only 4 like coupons in one transaction per day. Yup, they went there too.
And at my Target in St. George, they even told me they will not accept coupons that are higher than the value of the product. They used to adjust the coupon down to the price of the product but not anymore.
Just remember, the store DOES get paid for each and every coupon you use PLUS 8 cents handling fee... the store IS NOT loosing money because of coupons.
While I think that maybe this will help let everyone get a deal instead of one person coming and clearing the shelves, I do think that the cashiers and managers are probably going to be more stingy about those using coupons too... making it not near as fun.
Tweet
Pin It